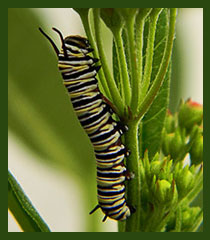 10 Monarch eggs and/or Caterpillars (larvae) - $25.00

If you have a suitable rearing chamber (example: a small aquarium with screened lid) and access to lush, green milkweed plants (Common Milkweed, Swamp Milkweed, or Tropical Milkweed), you might want to order our 10 Monarch eggs and/or caterpillars (sorry, no choice between eggs or caterpillars). Your eggs and/or caterpillars will be shipped on a potted Milkweed plant OR on fresh cut Milkweed leaves (our choice, not yours). Rearing instructions included with order but please also refer to the 'Monarch Life Cycle' and 'Raising Monarchs' pages of the web site for more information.

We are permitted to ship Monarch eggs and/or caterpillars to the following states: Alabama, Arkansas, Delaware, Georgia, Illinois, Indiana, Iowa, Kansas, Kentucky, Louisiana, Massachusetts, Maryland, Maine, Michigan, Minnesota, Mississippi, Missouri, Nebraska, North Carolina, North Dakota, New Hampshire, New Jersey, New York, Ohio, Oklahoma, Pennsylvania, Rhode Island, South Carolina, South Dakota, Tennessee, Virginia, Vermont, Wisconsin, and West Virginia. If you live in one of these states your eggs and/or caterpillars will be shipped on either a potted Milkweed plant or cut Milkweed. Our choice, not yours.
Do not place an order unless you live in one of the states we are permitted to ship Monarchs to. Your order will not be shipped and we will charge you a $1.00 service charge to cancel your order and refund payment.
We ship USPS First Class or USPS Priority Mail. Once you place an order, please watch your email closely for updates on the status of your order.

We should have monarch caterpillars available for shipping by mid June, 2023.
When available, a shopping cart button will appear right here to allow ordering.